one man show
Mago Elite One Man Show lasts about 1hour. in the show everything happens: magic, comedy, singing and many surprises. Find out more!
CLICK HERE: VIDEO MAGO ELITE ONE MAN SHOW
One Man Show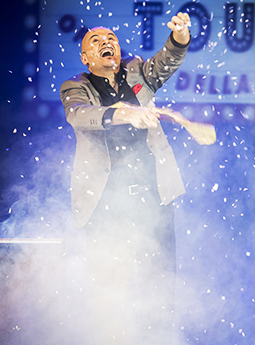 It's an amazing show, a "one man show" in which Elite performs visual magic alternating to comedy, often interacting with the audience (imagine a spectator playing a movie, or performing a strip-tease!). More, theatrical acts, such as "musical tribute", in which Mago Elite performs magic, singing live musical hits, or the moving monologue about Christmas, that ends with a heart-touching snowstorm. The mental magic moment: people loves when the performer plays with their mind! Finally, the exciting "virtual magic 2.0" act!
This show is ideal for festivals, corporate events, private parties, dinner shows. It has been booked for comedy clubs, variety shows, conventions, casinò and hotels.